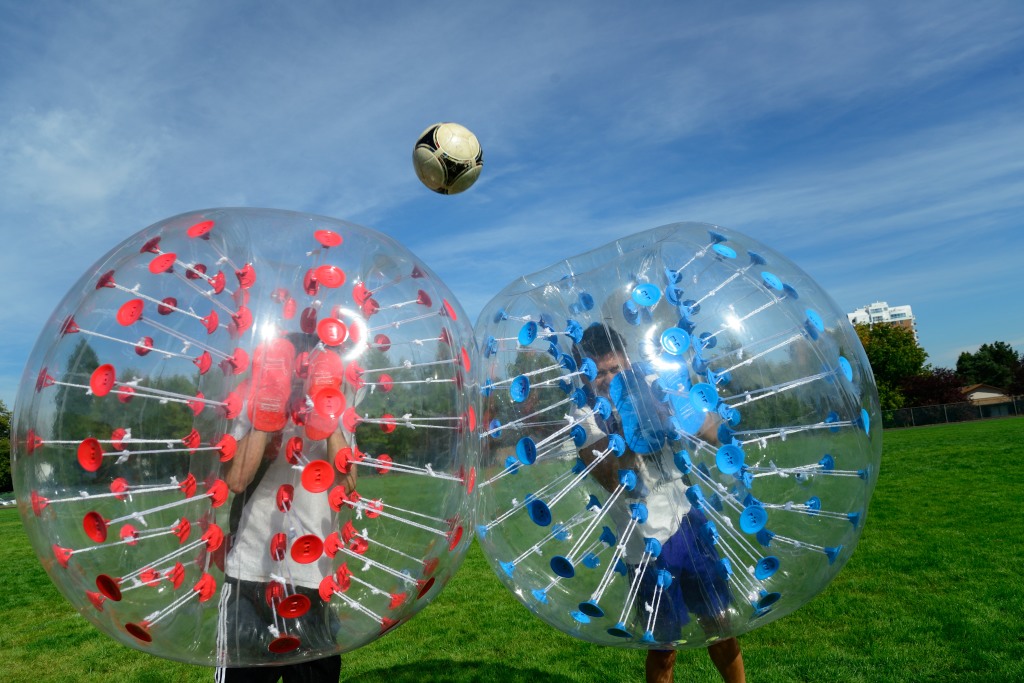 Types of events
Bubble soccer is fun for everyone. Whether it's a birthday party, corporate event, or just-for-fun with friends, bubble soccer is an experience you won't forget! 
Fun session with friends
Church events
Corporate events
Birthday parties
Charity fundraisers
Team building events
Half time show
Pricing
[IMPORTANT NOTICE: Starting from Sept. 1, 2017, we will be temporarily not taking any bookings outside of our gym, as we are setting up a new project and facility for you, sorry for any inconvenience]
This is how it works:
✭Option 1: You supply the venue, we supply everything else!
Depending on your venue and your group size, we can run 3 v 3, 4 v 4, or 5 v 5 games. Each game format has its own suggested number of players that allows you the best bubble soccer experience. Prices are as follows (click the bubbles to see more details):
Basic items:
Set-up & take down
Soccer nets
Cone markers
Soccer balls
2 Referees
Optional add-on items (Additional charge):
Additional player: $10 / player
Additional bubble suit: $25 / bubble per hour
Additional travel cost for venues that are over 5 km away from Vancouver
Music player rental: $10
Knee pads rental: $20 (for 10 pairs)
GoPro footage: $50
Venue booking fee: (price depends on the venue)
Back-up indoor venue (for outdoor booking): $25
And also,
50% off for any additional hour!

✭Option 2: Can't find a venue? Just come to our indoor facility, we take care of everything for you!
We provide bubble soccer at our indoor facility for a special rate, which includes up to 10 bubbles as well as FREE gym rental. Prices are as follows (click the bubbles to see more details):
*All prices are subject to GST